Thank you everyone for coming along with me on the crazy ride with AccuQuilt. I am very pleased with the customer support, the machine, the free patterns, I love it all!!!
If you didn't win this time don't be blue, they have the biggest sale of the year going on right now and you can hear all about it by signing up on their mailing list for secret sales and a coupon off your next purchase.
Use this link to sign up and get 22 free quilt patterns on top of all that other yummy goodness!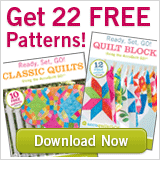 Without Futher ado (removing all extra entries there was only 2 allowed)
The winner recieves a sweet package from accuquilt including a Go! Baby fabric cutter and 3 dies of their choice. Along with a giant scrap package from Hawthorne Threads.
I would love the Hexagon, 2", 3", 5", the Half Square 4", and the 3-1/2 drunkard's Path...thanks for the giveaway...
Katheleen email me at sewfantasticblog@yahoo .com to claim your prize!!
Now grab those free quilt patterns and...